To add the filter to rewrite the Login page please follow these steps:
1)
Log in to the CAM Administration portal
2)
Navigate to Settings and Show Advanced settings
3)
Select Tune the Cloud Access Manager Proxy
5)
Enter the following values (setting the application to the name of the application in your deployment):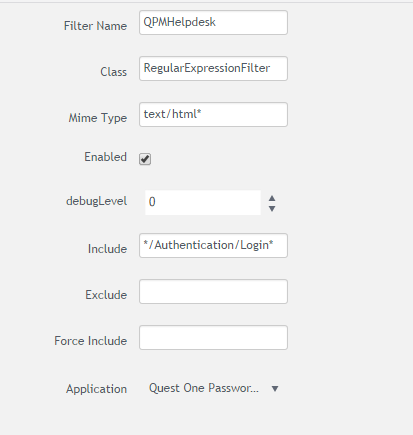 Next you need to add a property for this filter to use to rewrite the page:
1)
On the Tune the Cloud Access Manager Proxy page click Add new property
2)
The Property must be named following this convention, "
.replace.1".
Where filter-id is obtained from the DB Snapshot ProxyFilters section.
E.g. QPMHelpdesk6.replace.1
s#maxlength="512" name="Password" type="password" watermark="Password"#name="Password" type="password"#gi
N.B. do not copy and paste this value directly from this document to Cloud Access Manager as the double quotes must be neutral and not typographic as the browser may render them; copy into notepad first and then delete and re-type the double quotes if necessary.
4)
The Description should be 'Rewrite login span'
6)
The Application should be the same as the Application in the filter