Please note that with version 7 and above the NLog functionality is used. See How to Enable TRACE Logging for more information.

The following steps mainly apply to versions 6.1.4 and lower, however the job service can be configured this way for any version.

There are two available options for additional "debug" information:

"Component debug mode" and "Debug mode":





By default, Debug mode will be enabled. When this option is activated the Identity Manager Service writes additional information in the log file; for example, all parameters and results of a process step passed to a component.

Activating Component debug mode will result in more information written to the log file. In addition, a new file will be generated in the installation directory, i.e. C:\Program Files (x86)\Quest Software\Quest One Identity Manager. The new file is called "NsProviderTrace.log" with a time stamp.

IMPORTANT: Once you have enabled the appropriate option, save the change to the job service configuration and restart the Quest One Identity Manager Service for the change to take effect!

Please note: if you enable Component debug mode the log file size will grow and there will be several "NsProviderTrace.log" files generated. This option should only be activated when debugging an issue or when advised by Support to do so.

Additionally, the "Log severity" setting of the "Log writer" should be adjusted accordingly: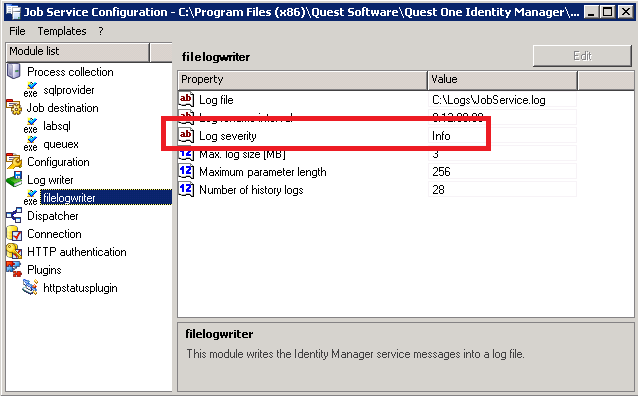 The default severity is "Info", but can be changed as required. For more information on the Severity Level and the log writer, please refer to the Process Orchestration Guide, Configuring the Identity Manager Service Log File.
Message Types

Severity Level

Description

Info

All messages are written to the log file. The log file quickly becomes large and cumbersome.

Warning

Only warnings and fatal errors appear in the log file (default).

Serious

Only fatal errors are written to the log file (exceptions).

The jobservice can also be configured to generate SQL logs, Object logs and Job Generation logs as described in the KB article How to set up SQL-Logs, Job-Generation-Logs and Object-Logs for various Front Ends. Please note, for internal jobs, the file name that applies is viNetworkService.exe.config and for external jobs the config file has to be named stdioprocessor.exe.config.