The steps provided within this article will walk through the configuration of a Service Account to act as the Classification Identity for a Classification Server to remove the below error from Manager.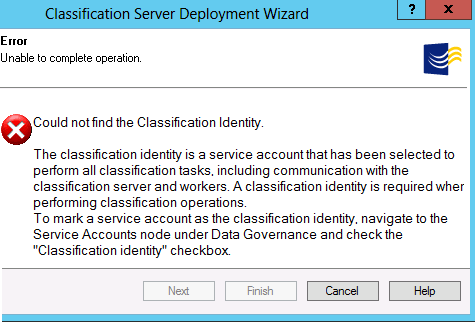 1. Before proceeding, the classification identity account will require the following permissions:
a. Local Administrator on the Classification Server and Classification Workers
b. Local Administrator on any agent host
c. Log On as Service on the Classification Server and Classification Workers
d. Member of Quest QCS Users local group on the Classification Server and Classification Workers.
i. Note: The group is created and the user is placed in this group automatically during installation.
(You should ensure that an existing policy does not change this group.)
c. When Windows Authentication is selected for database connection during the Classification Server installation:
i. db_owner for ContentService and TopicService databases
ii. dbcreator role for the installation (this role is needed even if databases are pre-created)

2. Under the "Data Governance" | "Service Accounts" navigation menu, click the green plus "Add" icon.


3. Select the Active Directory account that has the permissions documented above in step 1

4. Enter the password for this account for "Password" and "Password confirmation" fields

5. Ensure that the "Classification identity" checkbox is selected.


6. Click "Save" to save the new account/changes

7. Attempt to deploy a Classification Server from the Manager application, no error should be displayed complaining about the Classification Identity account.