The steps provided within this article will walk through the troubleshooting steps of the below error from Manager when trying to view the Configuration status of the Classification Workers and Classification Server Status.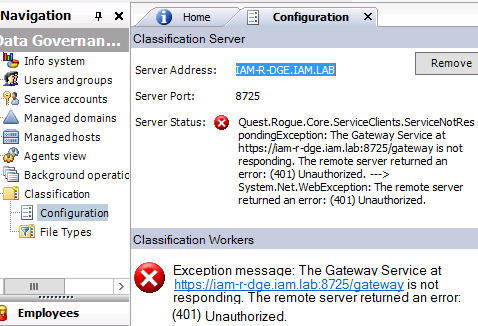 1. Open an Internet Browser on the system running Manager where the error is experienced.

2. Type in the URL provided in the error message:
a. Should resemble "https://ServerAddress:8725/gateway"
i. Note: the URL is case sensitive (usually all lowercase).

3. When prompted, accept the Certificate Error to continue

4. When prompted, enter the username/password of the Classification Identity

5. The "Gateway Service" webpage should be displayed

6. Click the "Common Commands" – "ping" and ensure the status is "Running"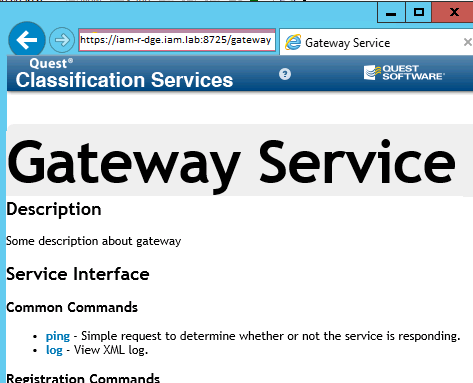 7. If the Gateway Service website loads and the service is reported as running when the "Ping" command was run above, re-enter the "Password" and "Password Confirmation" for the "Classification Identity" Service Account.

8. If the error is still experienced, schedule a maintenance window to restart the host server where the Classification Server Service is deployed
a. This is the server listed under "Configuration" and should be the same server where the URL of the error is pointing

9. Following the above troubleshooting steps, a Server Status of "Ok" should be reported by the "Data Governance" | "Classification" | "Configuration" navigation window.