Windows machine
To stop, start, or restart the Management Console for Unix service (mcu_service) on a Windows machine
If you installed the Start menu items, navigate to Start | Programs | Quest Software | Management Console for Unix to either stop the service or start the service.

This is handy on Windows 7+ because you can use the <windows_key> to search for it quickly.

Otherwise, you can log onto the machine as root user.
Navigate to Start | Programs | Administrative Tools | Services to open the Services dialog.
Locate and select the

One Identity

Management Console for Unix

jetty service in the list.

Use the Start, Stop, or Restart commands from the Action menu or right-click context menu.
Toolbar buttons are not enabled
You use the toolbar buttons across the top of the All Hosts view to perform individual tasks against one or more managed host systems. If the toolbar buttons are not active, it might be due to
Host state
User account role and permissions
View settings
Host State
If you select multiple hosts, they all must be in the same state (added, profiled, or joined) to perform the desired task. If they are not all in the same state, the toolbar button for that task will be disabled.
For example, if you select all hosts, but one or more of them are not profiled, the Install Software toolbar button will not be available for the whole group. If you deselect the hosts that are not profiled, the Install Software toolbar button becomes active. Also, if one of the selected hosts is currently being profiled by auto-profile, the web services, or by another console user, the Profile button will be disabled. You can either wait for the profile task to complete, or deselect the host to activate the Profile button.
User Account Role and Permissions
Another reason for a disabled toolbar button might be your user account role. You may only have read-only access to the view and are not allowed to perform the desired task. For example, if your user account is not in the Manage Hosts role, then you cannot make changes to hosts.
View Settings
Other tasks, such as Clear column filters have nothing to do with host state or user roles. That toolbar button is only enabled if you have column filters set. If there are no column filters set, then the option to Clear column filters is disabled. When one or more filters are set, then the option is enabled.
UID or GID conflicts
Management Console for Unix does not automatically pick up changes to the host made externally to the console unless you configure the host for auto-profiling.
For example, when you install Privilege Manager software on a remote host, it creates a new user and group named pmclient, assigning a UID and GID accordingly. If you do not profile the host after installing the Privilege Manager packages, the mangement console will not recognize the new user name and group name. If you attempt to configure that host for auto-profiling or automatic QAS status updates without profiling, you might encounter a UID conflict, such as this:

Or, if you attempt to add a new local group to that host without profiling, you might encounter a GID error like this: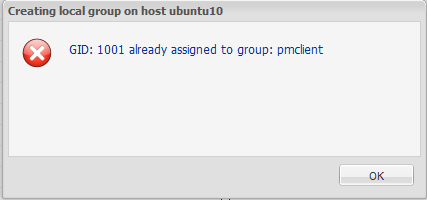 If you encounter a UID or GID conflict, profile the host and try the action again before you troubleshoot the problem further.
NoteS:

As a best practice, configure newly added hosts for auto-profiling before you perform any other actions so that the

mangement console

dynamically updates user and group information. See

Automatically profiling hosts

for details.
If

Authentication Services

is installed you may also get these errors because of UID/GID conflicts with Active Directory accounts. In this case, because the

mangement console

does not check for Active Directory conflicts, you will have to manually create the user with a different ID.
System maintenance
It is important to safeguard your data. One Identity recommends that you maintain copies of the most important files so you're always prepared for the worst.
This appendix provides general information and guidelines for maintaining or backing up your data.