The IT Shop allows users to request company resources such as software, system roles, or group membership as well as non-IT resources such as mobile telephones or keys. Furthermore, membership of a hierarchical role (department, location, cost center, or business role) can be requested through the IT Shop. The requests are processed by a flexible policy-based approval process. Introducing the IT Shop avoids time-consuming demands within the company and reduces the administration effort. The request history makes it possible to follow who requested which company resource or hierarchical role and when it was requested, renewed, or canceled.
Shops, shelves, customers, and products all belong to an IT Shop solution. Several shops can be grouped together into shopping centers. The shelves are assigned company resources in the form of products. Products can be grouped into service categories. All the service categories are summarized in a service catalog. Customers can select products from a service catalog in the Web Portal, add them to a cart, and send a purchase request.
The following figure shows an example of a service catalog with service categories.
Figure 1: Example of a service catalog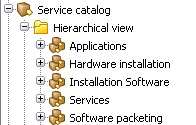 Requests follow a defined approval process that determines whether a product may be assigned or not. Products can be renewed or canceled. Approval processes can also be specified for renewals and cancellations. Approval policies are defined for approval processes. The approval policies are assigned to approval workflows for product requests, renewals, or cancellations.
Figure 2: Example of a simple approval workflow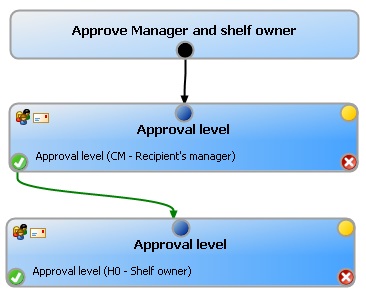 The products are requested, renewed, and canceled through the Web Portal. Authorized identities have the option to approve requests and cancellations. For more information about this, see the One Identity Manager Web Designer Web Portal User Guide.