Links support the navigation configuration. Links are implemented to reference frequently used menu items. Parts of the navigation interface that require an application several times, only need to be set up once. The links themselves do not appear in the navigation. Instead the referenced menu items and their child menu items are shown.
Figure 13: Structure of the navigation interface using links in the User Interface Editor (left) and display in the Manager (right).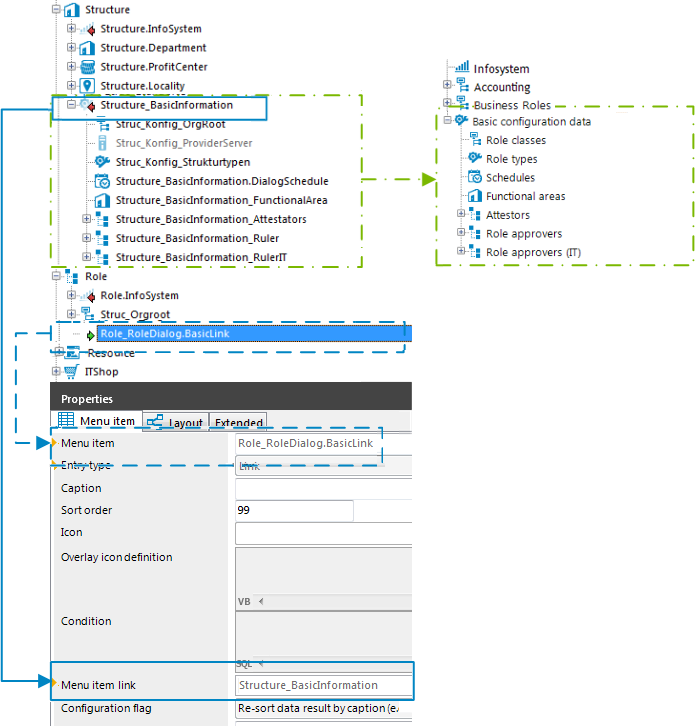 Special features of using links
Links inherit some properties of the reference entry.

You can use variables in the reference entry, for example in conditions for lists or data-dependent menu entries. Value assignment to the variables only takes place in the link. You must define the variables in the link.

The caption and the icon of the reference entry are overwritten with the corresponding values from the link.
To use links
Create the menu item that you want to use as the reference entry.

If necessary, create other menu items below the reference entry.

Create the menu items that link to the reference entry. Enter at least the following information for the link.

Menu item: Enter the name of the menu item.

Entry type: Select the Link entry type.

Menu item link: Select the reference entry to be shown at runtime when the link is called.

Assign an application and the permissions groups.

Select the Database > Save to database and click Save.
TIP:
If the menu item is of the Link type, you can use the Follow link node context menu to navigate to the reference entry.

For a reference entry, you can use the Referenced by context menu to display all links that refer to this reference entry and then navigate to these entries.
Related topics