About this guide
This guide describes each of the supported target cloud applications and how it is on boarded with One Identity Manager. This guide provides an overview of each supported cloud application. Information about each of the supported cloud applications functionality and associated limitations can be gathered from the guide. This guide is intended for end users, system administrators, consultants, analysts, and other IT professionals using the product.
One Identity Starling Connect overview
Today, more than ever, organizations must address the proliferation of cloud-based applications. While these applications often provide convenient and flexible access for employees and customers, they also present a new set of management and security challenges for IT and line-of-business managers.
For efficiency and simplicity, an organization's Identity and Access Management (IAM) solution needs to provide an aggregated view of identities across all systems. Additionally, an IAM solution should enable managers to easily define and enforce the policies of their governance initiatives, including those that are on-premises, hybrid and cloud. The above mentioned activities can be performed by One Identity Starling Connect.
A cloud based, managed-service offering, Starling Connect extends the governance capabilities of One Identity Manager (version 7.1.3 or later) to enable organizations to enjoy the benefits of secure hybrid environments. Now, you can extend your One Identity Manager on-premise deployment, to control all your applications, regardless of their installation (on-premise or cloud based).
With Starling Connect, you can extend your investment in identity governance beyond on-premises apps to cloud applications used by your partners. Starling Connect builds on One Identity Manager to unify governance, extend access controls, ensure compliance and to reduce the time taken to provision / de-provision users and groups.
One Identity Starling Connect architecture
Figure 1: Overview of Starling Connect and One Identity Manager integration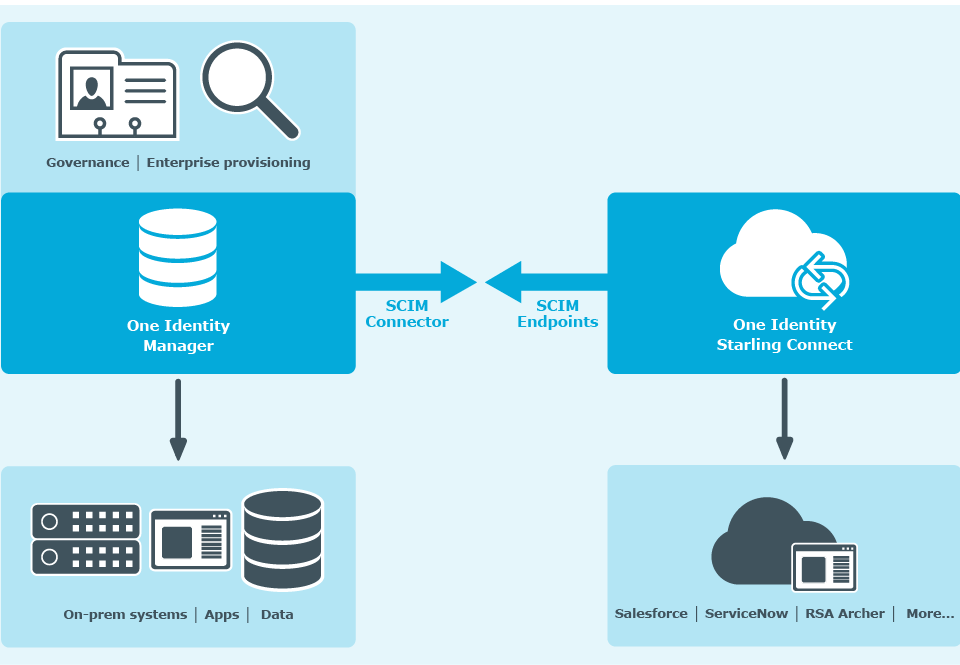 One Identity Manager Synchronization Editor
Synchronization Editor enables you to connect different target systems using the One Identity Manager SCIM Connector. This tool helps you to configure data synchronization for the supported cloud target system, and to specify which cloud target system data is mapped to the One Identity Manager database.
Starling Connect SCIM endpoints
Starling Connect SCIM endpoints are SCIM version 2.0 endpoints, that simplifies user management in the target cloud application. The SCIM endpoints define a schema for representing users, groups and a REST API for the necessary CRUD operations.
One Identity Starling
Starling helps to combine products from the One Identity line to create a secure and customizable cloud service. Administrators use the Starling site to create a new organization, register new accounts, add services to their organization, and gain secure access to those services. Although the main Starling portal can be used to create a free Starling account and provides access to the services currently available for subscriptions, some of the services must be purchased in order for them to be available for full-time use. For more information on adding a service, use the information associated with each service.
There is a service information site (http://status.cloud.oneidentity.com/) for viewing the current operational status of each service. This site is useful if you are having difficulties connecting to a service and want to check if there are any reported issues prior to contacting Support for additional assistance.
| | |
| --- | --- |
| | IMPORTANT: One Identity Manager should be configured with merge mode for Users and Groups synchronization to prevent data loss. |
Supported browsers
The following browsers are supported when accessing the Starling service:
Table 1:

Supported desktop browsers

| | | |
| --- | --- | --- |
| Internet Explorer | Windows 7 | 11 |
| Google Chrome | Windows 10, Mac OS X Yosemite | Latest |
| Mozilla Firefox | Windows 8.1 | Latest |
| Microsoft Edge | Windows 10 | Latest |
| Safari | Mac OS X Yosemite | See OS/Platform |
Table 2:

Supported mobile browsers

| | | |
| --- | --- | --- |
| Google Chrome | Android | Latest |
| Safari | iOS | Latest |