You can save log statistics to include them in reports as a subchapter.
Figure 15: Search > Logspaces — Creating reports from custom log statistics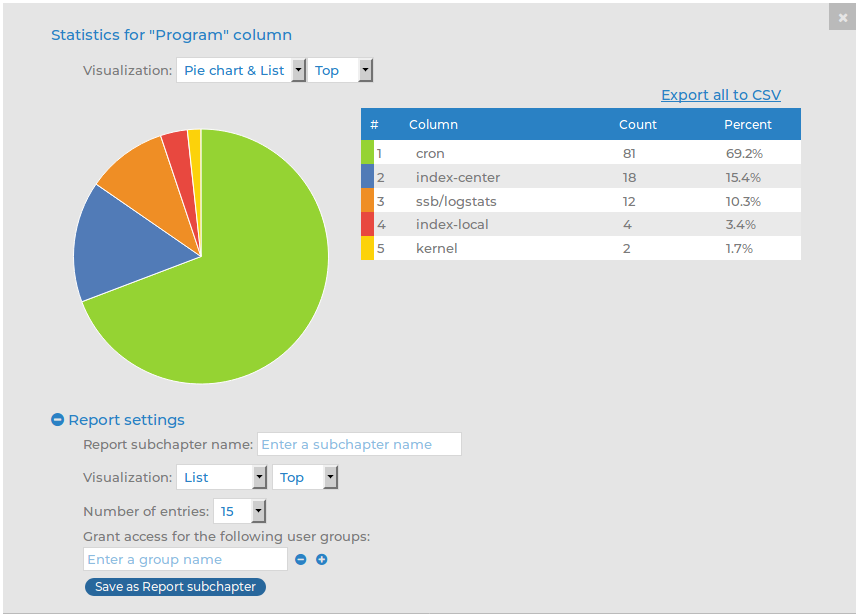 In the Statistics view, click Report settings.

Add a name for the statistics in the Report subchapter name field.

Select the Visualization for the report: List, Pie chart, or Bar chart.

Choose how the entries are sorted: descending (Top) or ascending (Least).

Choose the Number of entries to include.

NOTE: Selecting All includes only the first 1000 results. The remaining results are aggregated as 'others'.

NOTE: For performance reasons, when creating statistics for a Multiple Logspace (see "Creating multiple logspaces" in the Administration Guide), syslog-ng Store Box(SSB) does not create statistics if the data upon which the statistics is based (for example, the hostname) has over 1000 entries in any of the member logspaces. In this case, SSB displays the Number of member statistics has too many entries error message.

Select the user group that can access the subchapter in the Grant access for the following user groups field.

Click Save as Report subchapter.

To add the saved subchapter to a report, follow the instructions provided in Configuring custom reports.