One Identity Manager can be used to define rules that maintain and monitor regulatory requirements and automatically deal with rule violations. Define compliance rules to test entitlements or combinations of entitlements in the context of identity audit for employees in the company. On the one hand, existing rule violations can be found by checking rules. On the other hand, possible rule violations can be preemptively identified and this prevented.
Figure 1: Identity audit in One Identity Manager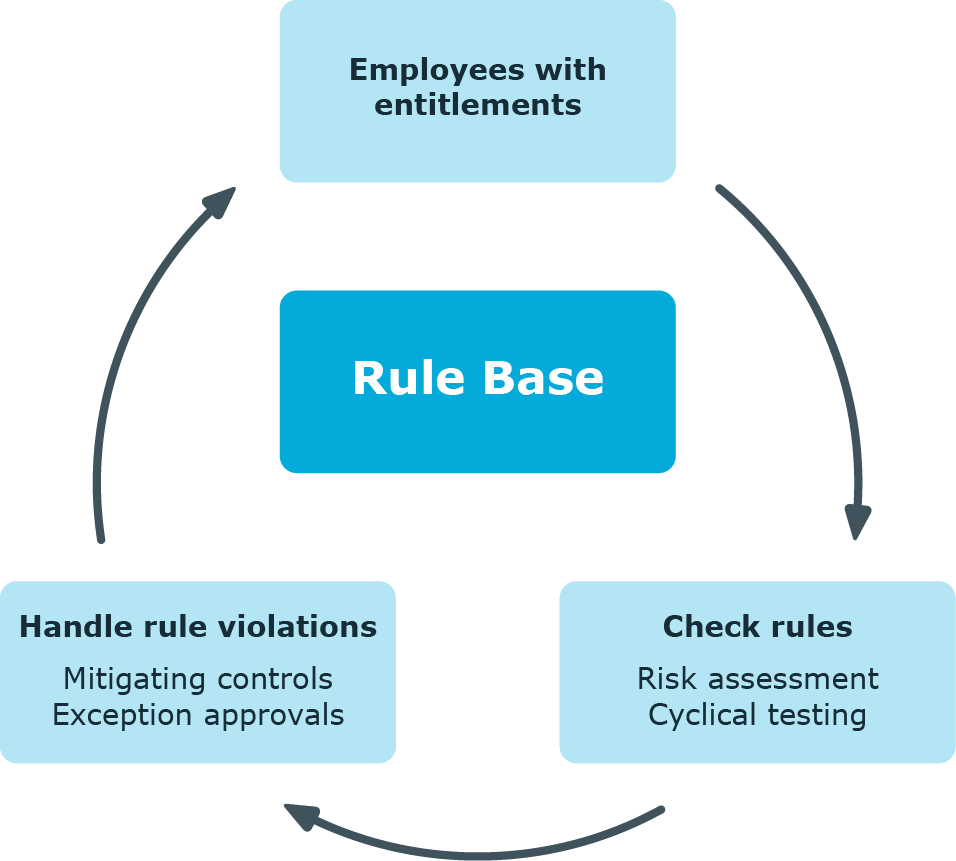 In addition to rule checking, One Identity Manager offers a very detailed examination of effective authorization for SAP R/3 target systems for SAP user accounts. By linking SAP user accounts to employees, combinations of SAP authorizations that an employee obtains through different SAP user accounts can be checked. Potentially dangerous authorizations and combinations of them can easily be recognized this way and the necessary action taken.
SAP authorizations are verified on the basis of the SAP applications permitted for an user account and the associated authorization objects. To do this, in One Identity Manager, you define SAP functions that group together the SAP applications and authorization objects. One Identity Manager finds all the SAP roles and profiles that have exactly these authorization objects assigned to them. User accounts match the SAP functions if they are a member in the SAP roles and profiles that have been found.
In order to check whether there are potentially dangerous SAP authorizations in the company, define SAP functions that are critical for these authorizations. Find out which employees match these SAP functions by using compliance rules.
If employees are granted SAP authorizations through IT Shop requests, the authorizations that are not permitted can be detected and handled respectively when the request is made with the appropriate approval procedures. For more information about approval procedures in the IT Shop, see the One Identity Manager IT Shop Administration Guide.
Based on this information, you can made corrections to data in One Identity Manager and transfer them to the connected SAP R/3 systems. The integrated report function in One Identity Manager can be used to provide information for the appropriate tests.
NOTE:
Compliance Rules Module
and
SAP R/3 Compliance Add-on Module
must be installed in order to set up and analyze
SAP
functions.
NOTE: You cannot use SAP functions to check the authorizations in the child systems of a central user administration.