Table 1:

General configuration parameters for company policies

| Configuration parameter | Meaning |
| --- | --- |
| QER | Policy | Preprocessor relevant configuration parameter for controlling company policy validation. Changes to the parameter require recompiling the database. If the parameter is enabled, you can use the model components. |
Companies have varying requirements that they need for regulating internal and external employee access to company resources. They also have to demonstrate that they adhere to legal requirements. Such requirements can be defined as policies.
One Identity Manager allows you to manage these company policies and thus to assess the risk involved. Assuming the appropriate data is stored in the One Identity Manager database, One Identity Manager determines all the company resources that violate these company policies. You can also define company policies for the purpose of providing reports that do not have any connection with One Identity Manager.
Adherence to company policies is checked regularly using scheduled tasks. You can incorporate company policies into the regular attestation of your company resources to decide on further handling of any violated ones. Risk assessment can be run for all company policies. Different reports and statistics provide you with an overview of violated policies.
Figure 1: Company policies in One Identity Manager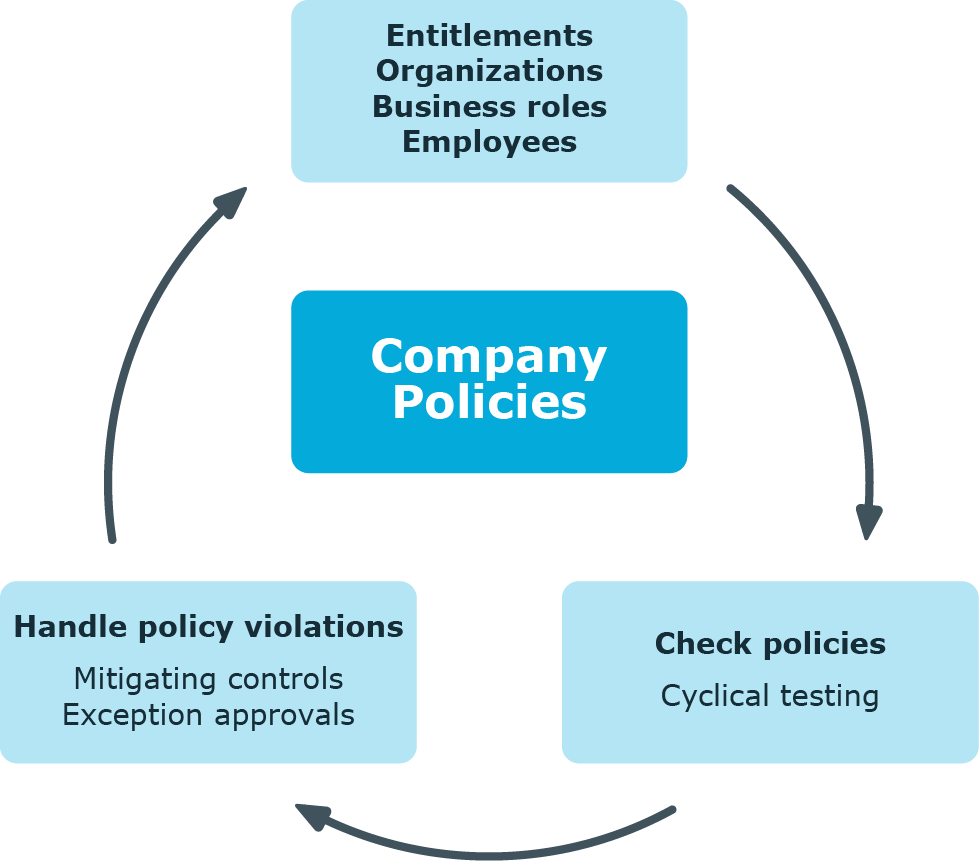 Example of company policies are:
All cost centers are assigned a manager.
All departments are assigned employees.
All employees are attested.
Deactivated employees do not have any enabled user accounts.
To be able to map company policies
In the

Designer

, set the QER | Policy configuration parameter.
If you disable the configuration parameter at a later date, model components and scripts that are not longer required, are disabled. SQL procedures and triggers are still carried out. For more information about the behavior of preprocessor relevant configuration parameters and conditional compiling, see the One Identity Manager Configuration Guide.