You can edit processes in the Designer using the Process Editor. In the Process Editor, a process is combined with its process steps in a process document. The process is displayed and controlled by means of special control elements.
Figure 26: Illustrating a process in the Process Editor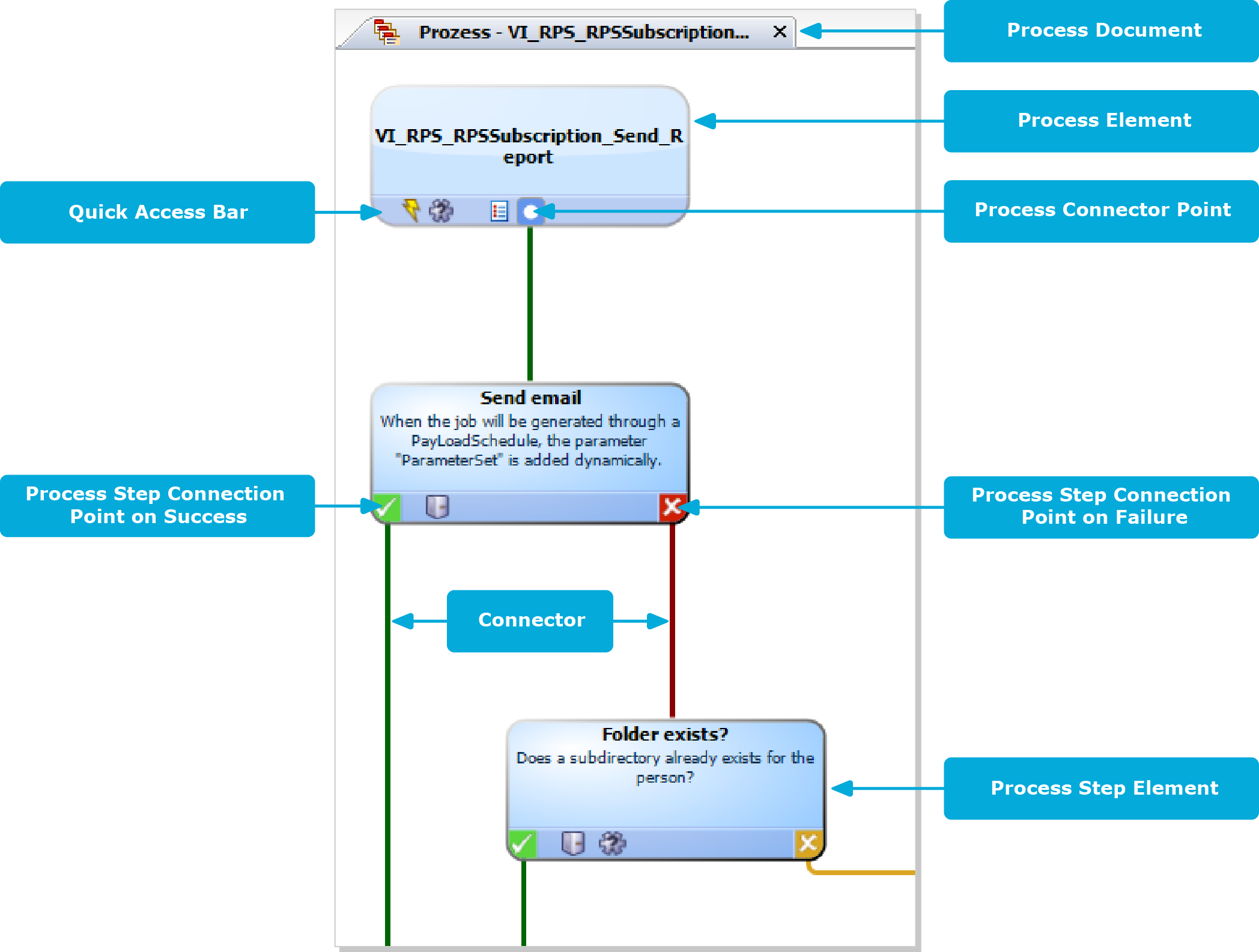 When you add a new process, an initial process document with one process element is created. When you add a process step, the associated process step element is created.
Individual elements are linked to each other with a connector. Activate the connection points with the mouse.
To create a connection, click on a connection point, hold down the left mouse button and pull a connector to the second connection point.

To delete a connection, select a connection end-point again by clicking with the mouse. Confirm the security prompt with OK.
Double-click on the process or process step element to open the respective edit view, where you can make your changes.
Each element has a tooltip. A process element's tooltip displays the name and description of the process. A process step element's tooltip displays the name and description of the process step as well as the description of the process task used.
Each element contains a quick access menu bar. The icons represent special properties of processes or process steps. The icon's tooltip shows more detailed information about a property. Double-click on a icon to open the edit view of the process or process step and jump to the corresponding property.
Table 69:

Quick access icons

| Icon | Meaning |
| --- | --- |
| | Events are defined. |
| | Process is not generated. |
| | Process in wait mode on error. |
| | Processing is split. The connection point on error and the connector to the subsequent process step are colored yellow. |
| | Runtime errors are ignored. The connection point is colored gray on error. No process step is possible on error. |
| | If an error occurs, no more process steps are handled for this process. |
| | A generating condition exists. |
| | Process information is enabled. |
| | A script for selecting a server or server mask is entered. |
| | Messaging on error and on success is enabled. |
| | The process or process steps are customized. More information about the customizations is shown in a tooltip. |
Some important properties are shown by the color of the element.
Table 70:

Colors of elements

| Color | Meaning |
| --- | --- |
| Blue | Default. |
| Yellow | The verification test resulted in a warning or information. |
| Red | The verification test failed. |
| Gray | The process is disabled. |
You can drag and drop elements in the process document. Use Arrange in the context menu to reset the elements to their default positions. The position of each element is transferred to the One Identity Manager database when the entire process is saved. The layout is therefore available to all users when you restart the Designer.