There is a special control element for displaying the overview form in the user interface. The information to be displayed on the overview form is configured with menu items. The menu items are represented as form elements that are linked to each other on the overview form. A hierarchical structure of menu items is also included in the interface configuration.
The basis is formed by a menu item with the Main form element item type. This menu item specifies the main element on the overview form. An interface form that links to this menu item has to configured in order for it to be displayed in the application. The main form element is always displayed in the middle of the overview form.
The other menu item such as fixed, data-dependent, link, or statistic menu items are configured under the menu item for the main form element. These menu items are grouped around the main form element on the overview form as additional form elements.
The color and positioning of the form elements on the overview as well as the properties that are shown, are specified by layout information for the menu items.
Figure 15: Example of elements in an overview form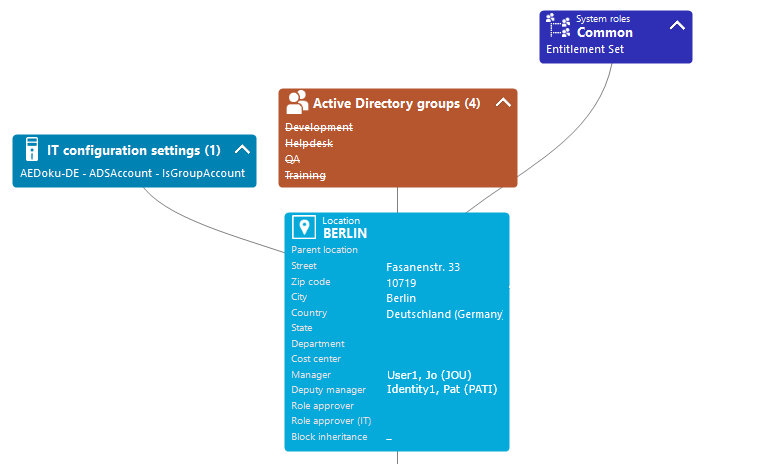 The display text of the menu item, the display text for the objects to be shown and the menu item icon are displayed in the header of a form element. Other data represents the object properties and values. There is a tooltip for each property showing a description for use. Some form element entries are highlighted in color when you click on them with the mouse. You can jump to the referenced object by clicking on the entry with the mouse.
If the form element is used for mapping lists, the items are displayed with their names. The number of items is shown in the form element header. There is also an icon in the form element header for showing and hiding the items. There is no tooltip for list items.
Table 49:

Form element icon

| Icon | Meaning |
| --- | --- |
| | Show list items. |
| | Hide list items. |
NOTE: Objects marker for deletion are struck through on the overview form.
Detailed information about this topic