You can define conflicting roles to prevent employees, devices, or workdesks from being assigned to several roles at the same time and from obtaining mutually exclusive company resources through these roles. At the same time, specify which departments, cost centers, and locations are mutually exclusive. This means you may not assign these roles to one and the same employee (device, workdesk).
NOTE: Only roles, which are defined directly as conflicting roles cannot be assigned to the same employee (device, workdesk). Definitions made on parent or child roles do not affect the assignment.
Example:
Cost center B is named as conflicting role to cost center A. Jenna Miller and Hans Peters are members of cost center A. Louise Lotte is a member of cost center B. Hans Peters cannot be assigned to cost center B. Apart from that, One Identity Manager prevents Jenna Miller and Louise Lotte from being assigned to cost center A.
Figure 12: Members in conflicting roles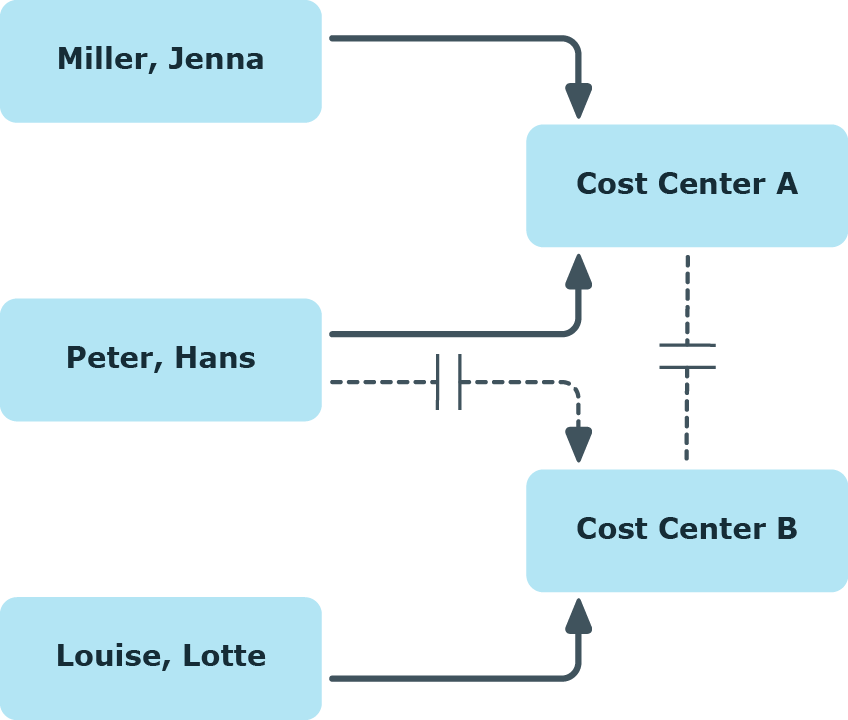 To configure inheritance exclusion
In the Designer, set the QER | Structures | ExcludeStructures configuration parameter and compile the database.

NOTE: If you disable the configuration parameter at a later date, model components and scripts that are not longer required, are disabled. SQL procedures and triggers are still carried out. For more information about the behavior of preprocessor relevant configuration parameters and conditional compiling, see the One Identity Manager Configuration Guide.
Related topics