After installing the Defender Management Portal, you need to specify a service account for the portal. This account must be a member of the Local Administrators group on the computer where the Management Portal is installed and a member of the Domain Users group in the corresponding domain. By default, the Defender Management Portal uses the service account to do the following:
Program and assign software tokens requested through the Defender Self-Service Portal.
Retrieve data for Defender reports from Active Directory.
All other operations are performed under the account used to access the Defender Management Portal.
To specify a service account
Sign in to the Defender Management Portal as a portal administrator.

For instructions, see Opening the portal.

On the Defender Management Portal home page, click Administer Defender: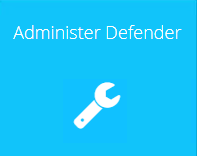 In the left pane, click the Configuration tab.
In the right pane, click the Service Account tab.
Type the credentials of the user account you want to set as a service account for the portal.
When you are finished, click the Save button to save your changes.

If the specified account does not have the "Log on locally" right, that right is granted to the account automatically after you click the Save button.