On the Defender Management Portal, you can generate and view a number of reports providing information about the security tokens, authentication requests from users, configuration of Defender Security Servers, installed Defender licenses, RADIUS payloads assigned to users, and more. After generating a report, you can print it out or save it in HTML or XML format.
To use Defender reports, the user account with which you sign in to the Defender Management Portal must have an appropriate portal role assigned. For more information, see Portal roles.
You can start using reports by clicking the Defender reports option on the home page of the portal: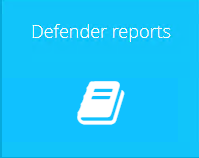 The page that opens provides the following tabs you can use to configure, schedule, generate, and view Defender reports: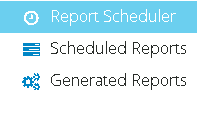 Report Scheduler Allows you to select a report, configure its settings, and schedule the report for generation.
Scheduled Reports Provides a list of all reports you have scheduled so far. The items in the list are also called scheduled report definitions. You can use this node to view the details of scheduled reports, immediately generate scheduled reports without waiting for next generation time, or selectively delete the scheduled report definitions you no longer need. Deleting a scheduled report definition stops the generation of the corresponding report but does not delete already generated reports located on the Generated Reports tab.
Generated Reports Provides a list of reports generated from the corresponding report definitions on the Scheduled Reports tab. You can use this node to view the generated reports and selectively delete the generated reports you no longer need. Deleting a generated report does not affect the underlying scheduled report definition located on the Scheduled Reports tab.
See also: