On the next page of the wizard, you can view or modify the group naming rules used by the Group Family.
When creating a new group, the Group Family generates the group naming properties such as Group name, Display name, Group name (pre-Windows 2000) and, optionally, E-mail alias. Unless otherwise specified, the Group Family uses a certain default rule to generate those properties based on the values of the group-by properties.
Figure 100: Group naming rule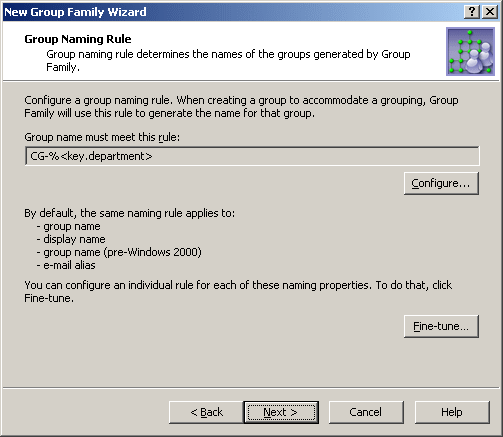 By default, the Group Family generates the group naming properties based on the following syntax: CG-%<key.property1>-%<key.property2>... In this syntax, CG is the abbreviation for Controlled Group, whereas each of the %<...> entries is used to represent a value of a certain group-by property. When creating a group for a given grouping, the Group Family substitutes the grouping-specific value of the group-by property for the entry containing the name of that property. For example, with a grouping identified by the Operations value of the Department property, the group name is set to CG-Operations. With two group-by properties, such as Department and City, an example of the group name could be CG-Operations-London.
You can modify the group naming rule by clicking the Configure button. This displays the Configure Value dialog box, discussed earlier in this document (see How to configure a Property Generation and Validation policy). You can use that dialog box to set up a value for the 'name' must be condition, in the same way as you do when configuring a Property Generation and Validation policy.
A value is a concatenation of one or more entries. The Configure Value dialog box provides the Add, Edit, and Remove buttons for managing the list of entries. Clicking Add displays the Add Entry window.
In the Add Entry window, you can select the type of the entry to add, and then configure the entry. The available types of entries are as follows:
Text Adds a text string to the group naming rule.
Group-by Property Adds a group-by property or a part of a group-by property to the group naming rule.
To add a text string, you simply type a text in Add Entry window. The next subsection elaborates on the Group-by Property entry.