Query-based distribution group is a type of distribution group introduced in Exchange Server. The difference from the usual distribution group is that members of a query-based group are not statically placed into it. Email is propagated among the members of the group, but only among those of them who is currently in the state to comply with the specified LDAP query of this distribution group.
You can create a query-based distribution group as follows: in the console tree, right-click the container where you want to add the group, select New | Query-based Distribution Group, and then follow the instructions in the wizard. The following figure shows the step of the wizard where you can set up a query.
Figure 17: Administering query-based distribution groups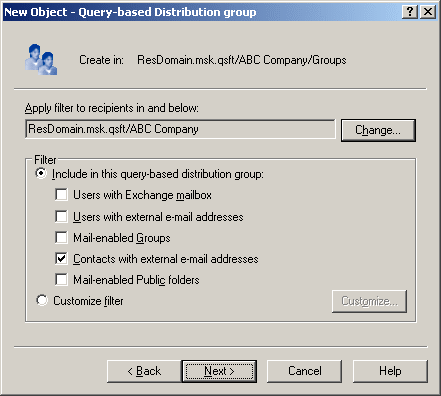 On this page, you can choose between predefined filters and custom filter. If select Custom filter, click Customize to configure the filter. This displays the Custom Search window where you can specify your search criteria.
You can manage a query-based distribution group in much the same way as you do with regular distribution groups: right-click the group and then select a command on the shortcut menu.