Host Access Control view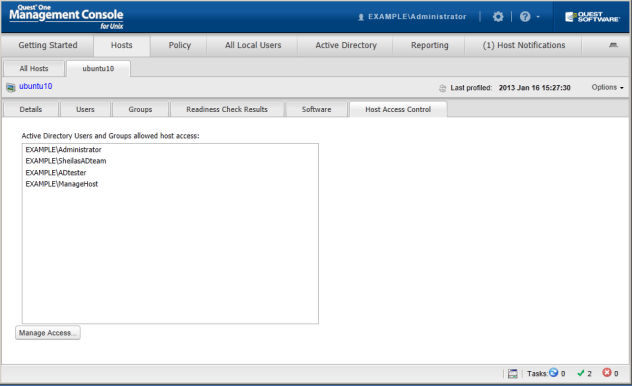 Click the Manage Access button to modify the Authentication Services login policy. (See Configuring host access control for details.)
Install software on hosts
Once a you have successfully added and profiled one or more hosts, you can remotely deploy software products to them from the mangement console.
The Install Software dialog displays when you select the Install Software toolbar button.
From this dialog, select the software products you want to deploy and install on the selected hosts.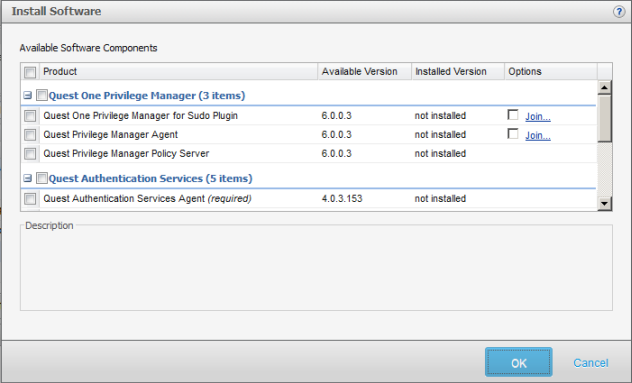 | | |
| --- | --- |
| | Note: If you do not see all of these software packages, verify that the path to the software packages is correctly set in System Settings. Refer to: |
For more information about installing software components:
Using the console search options
Management Console for Unix provides both basic and advanced search options to help you find and select hosts from the All Hosts view or user accounts from the All Local Users tab.
Performing a basic search
To search for hosts on the All Hosts view based on the values in any of the mangement console columns, use the Search for hosts box under the toolbar. To search for users on the All Local Users tab based on the values in any of the columns on that view, use the Search for users box.
To perform a basic search
Place your cursor in the Search box and enter one or more characters. As you enter characters into the search field, the

mangement console

displays only the items that contain the search criteria. For example, if you enter the letter "a", the console displays all items that have the letter "a" in one of the columns.

| | |
| --- | --- |
| | Note: You cannot use wildcards in basic search strings. |

Optionally, to sort within the displayed items, click a column title to arrange it into either ascending or descending order.
To clear the search and display all items, click the to the right of the Search for hosts box.