syslog-ng Store Box (SSB) continuously monitors a number of parameters of the SSB hardware and its environment. If a parameter reaches a critical level (set in its respective Maximum field), SSB sends e-mail and SNMP messages to alert the administrator.
SSB sends SNMP alerts using the external network interface by default, or using the management interface if it is enabled. SSB supports the SNMPv2c and SNMPv3 protocols. The SNMP server set on the Alerting tab can query status information from SSB.
TIP: To have your central monitoring system recognize the SNMP alerts sent by SSB, select Basic Settings > Monitoring > Download MIBs to download the SSB-specific Management Information Base (MIB), then import it into your monitoring system.
Figure 50: Basic Settings > Monitoring > SNMP agent settings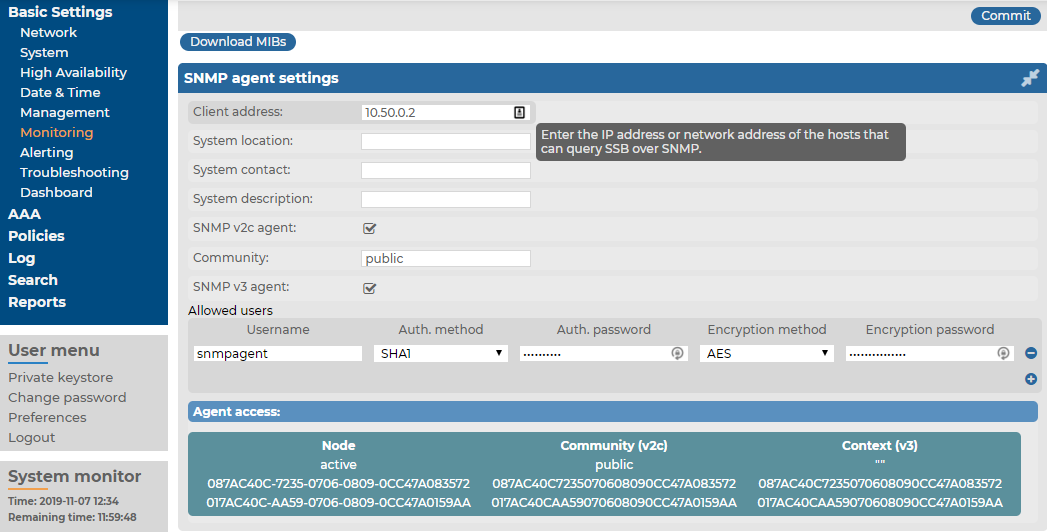 The following sections describe the parameters you can receive alerts on.
For details on monitoring SSB with an external central monitoring system, see Monitoring SSB.