The syslog-ng Store Box(SSB) appliance displays various statistics and the status history of system data and performance on the dashboard at Basic Settings > Dashboard. The dashboard is essentially an extension of the system monitor: the system monitor displays only the current values, while the dashboard creates graphs and statistics of the system parameters.
The dashboard consists of different modules. Every module displays the history of a system parameter for the current day. To display the graph for a longer period (last week, last month, or last year), select the Week, Month, or Year options, respectively. Hovering the mouse over a module enlarges the graph and displays the color code used on the graph.
To display the statistics of a module as a table for the selected period, click on the graph.
Figure 232: Basic Settings > Dashboard — The dashboard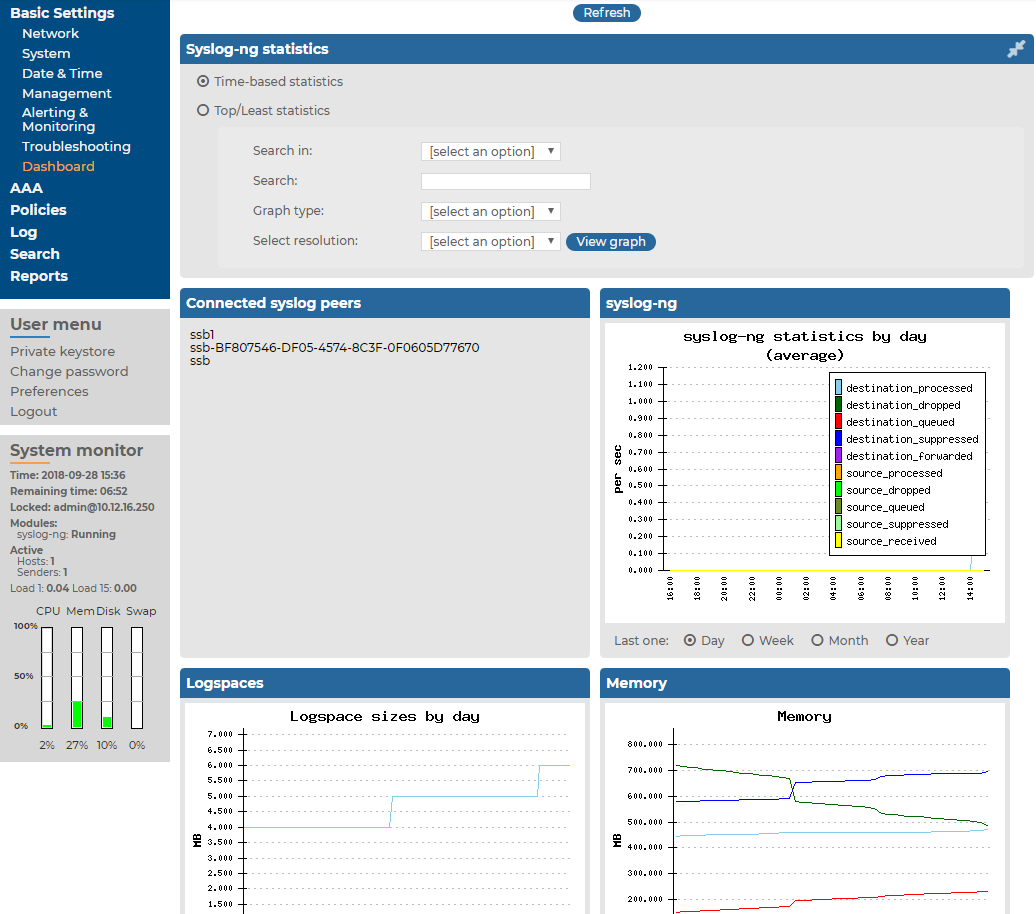 The following modules are displayed on the dashboard of SSB:
Caution:

Statistics about syslog-ng and logspace sizes are not backed up. As a result, following a data restore, the Basic Settings > Dashboard page will not show any syslog-ng and logspace statistics about the period before the backup.
syslog-ng: syslog-ng statistics about the received, processed, and dropped messages. See also Displaying custom syslog-ng statistics.

Connected syslog peers: A list of hosts that actively send messages to SSB. Note that these values are updated periodically based on the Sampling interval set on page Log > Options > Dashboard Statistics. For details, see Displaying custom syslog-ng statistics.

syslog-ng statistics: The rate of incoming messages in messages/second. Note that the values displayed are average values calculated for the last 15 minutes.

Logspaces: The size of the logspaces. Note that these values are updated only every ten minutes.

Memory: The memory used by the system.

Disk: Filesystem usage for the different partitions.

CPU: CPU usage.

Network connections: The number of network connections.

External interface: Traffic on the external interface.

Management interface: Traffic on the management interface.

Load average: Average load of the system.

Processes: The number of running processes.
For details about setting the statistics collection options, see Statistics collection options.