Table 1:

Configuration parameters for identity audit
Configuration parameter
Meaning
QER | ComplianceCheck
Preprocessor relevant configuration parameter to control component parts for Identity Audit. Changes to the parameter require recompiling the database.

If the parameter is enabled, you can use the model components.
One Identity Manager can be used to define rules that maintain and monitor regulatory requirements and automatically deal with rule violations. Define compliance rules to test entitlements or combinations of entitlements in the context of identity audit for employees in the company. On the one hand, existing rule violations can be found by checking rules. On the other hand, possible rule violations can be preemptively identified and this prevented.
Figure 1: Identity audit in One Identity Manager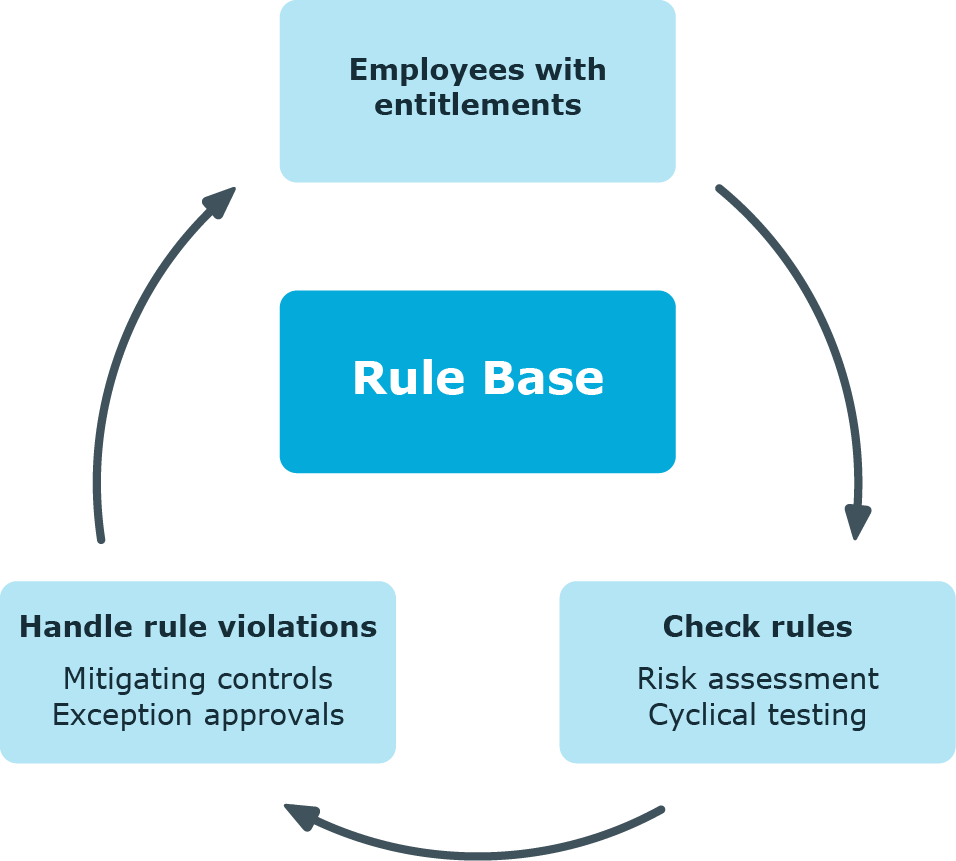 Simple rule examples are:
An employee may not obtain two entitlements A and B at the same time.
Only employees with a particular department can have a particular entitlement.
Every user account has to have a manager assigned to it.
You can use the identity audit function of One Identity Manager to:
Define rules for any employee assignments
Evaluate the risk of possible rule violations
Specify mitigating controls
Initiate regular or spontaneous rule checks
Detailed testing of edit permissions for employees within an

SAP

client (using

SAP

functions)
Evaluate rule violations with differing criteria
Create reports about rules and rule violations
Based on this information, you can made corrections to data in One Identity Manager and transfer them to the connected target systems. The integrated report function in One Identity Manager can be used to provide information for the appropriate tests.
To use the identity audit function
In the

Designer

, set the "QER | ComplianceCheck" configuration parameter.