By default, the same rule applies to these naming properties:
Group name (pre-Windows 2000)
You have the option to configure an individual rule for each of these naming properties. To do so, click Fine-tune on the Group Naming Rule page. This displays a window where you can select a naming property and configure a rule for that property the same way as you do for Group name. The window looks similar to the following figure.
Figure 102: Fine-tune naming rule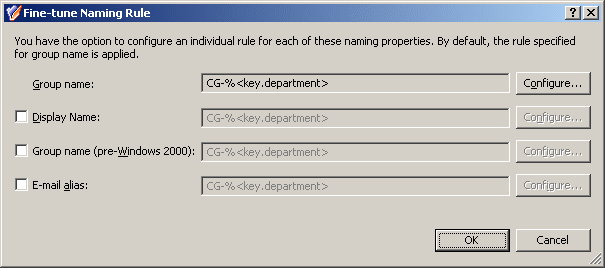 You may need to configure a separate rule for a certain property, considering restrictions imposed on that property. For example, Group name (pre-Windows 2000) must be less than 20 characters. In order to meet this requirement, select the Group name (pre-Windows 2000) check box and click Configure to set up an appropriate rule. When configuring entries to include group-by properties, limit the number of characters in each entry by using the option The first in the Add Entry window.