On the next page, you can schedule the Group Family to run. During each run, the Group Family performs as described in the How it works section, earlier in this chapter.
When setting up the schedule options, take into account that a Group Family run is a lengthy and resource intensive operation. Therefore, a Group Family run should be scheduled for a time that it will have the minimum impact on users.
Figure 106: Group family scheduling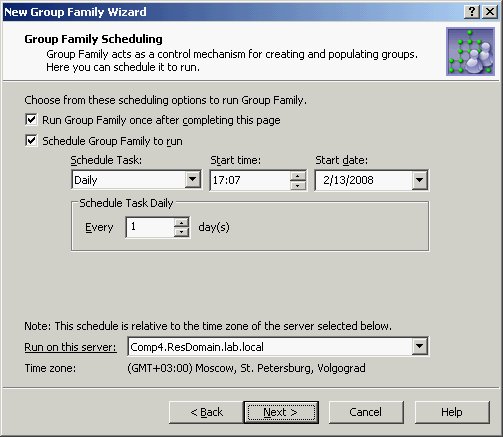 Select the first check box to run the Group Family right after you complete the wizard and whenever the Group Family is modified by managing the configuration storage group (see Administering Group Family later in this chapter).
Select the second check box to set up schedule options. As long as this check box is selected, the Group Family runs at specified time.
From the Run on this server list, you can select the Administration Service to run the Group Family. It is advisable to choose the least loaded Service.